Give a healthy start to your day with this superfood.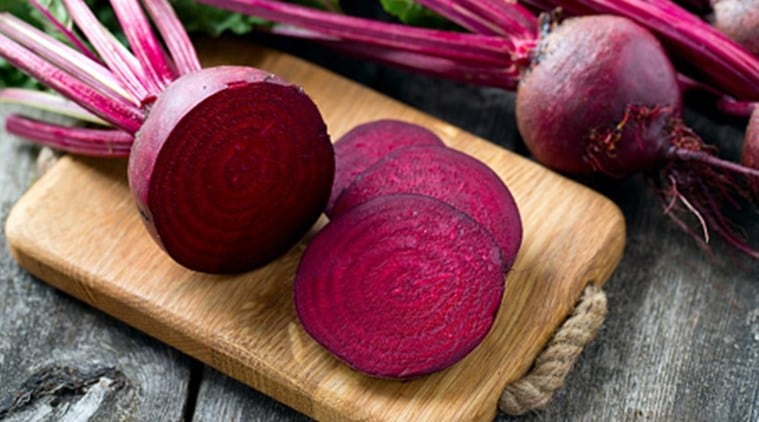 There is no denying that fruits and vegetables are extremely essential for maintaining one's health. From keeping away our hunger pangs to improving our overall immunity, regular consumption of fresh veggies and fruits is always recommended. One such vegetable that is indeed helpful is beetroot, which is loaded with numerous nutrients and other essential health-enhancing properties. If you tend to keep away from including vegetables like beetroot in your daily diet, here are some reasons why you shouldn't.
Packed with essential nutrients like folate, Vitamin B9, potassium, iron, vitamin C among others, beetroots are known to help increase blood flow in the body, enhance exercise performance and are also effective in regulating blood pressure levels.
In fact, a glass of beetroot juice — a source of dietary nitrate — could dramatically lower as well as reduce heart attack risk, said a 2017-study published in the Journal of Physiology – Heart and Circulatory Physiology. According to the study, dietary nitrate helped dilate blood vessels to decrease blood pressure, which is a leading factor for developing heart attack.
Recently Luke Coutinho took to Instagram to share a post. Take a look!
Consume the leaves in soup or vegetable form and the amazing beets loaded with nutrition …low calorie , high fibre, digestive enzymes ..nitrate rich making it great for high blood pressure , athletic performance , pre workout , post workout ….highly anti inflammatory , great for the digestive system …best consumed raw , cooked ok too although lesser nutrients …..have it before meals …juice it with ginger and 🍋 and a dash of olive oil ….try it as your pre workout and experience the amazing energy …..get this Into your lifestyle …if you have medical conditions check before using #beets #beetroot #highbloodpressure #athletes #preworkout #postworkout #fitness #holistichealth #juices #thenewreligionlifestyle #themagicweightlosspill #lifestyle
A post shared by Luke Coutinho – Lifestyle (@luke_coutinho) on
As per the lifestyle coach, one must include beetroots in their diet owing to its high fibre, low calorie and anti-inflammatory properties. Sharing a quick recipe for beetroot juice, he stressed that raw juice can make for a good pre-workout drink.
Ingredients
1 cup – Beetroot juice
1 inch – Ginger
1 tsp – Olive oil
Method
*Mix beetroot juice with ginger and a dash of olive oil.
He wrote, "Try it as your pre-workout and experience the amazing energy …..get this into your lifestyle." However, he cautioned that those with a medical condition, should check with their doctors before making a lifestyle change.
Meanwhile, actor Shilpa Shetty also shared a mouth-watering beetroot recipe.
Our first recipe in 2020 is not only loaded with benefits and great taste, but also is a part of the diet plans on the @shilpashettyapp. Honouring our #GetFit2020 motto, presenting to you the Beetroot Chilla. It is a great source of iron and plant-based protein, and helps boost digestion. If you also have a healthy and quick recipe, send them to me in the comments below and you could stand a chance to make it with me on the Shilpa Shetty Channel. . . . . . . . #SwasthRahoMastRaho #TastyThursday #SSApp #beetroot #breakfast #lunch #meals #healthyeating #cleaneating
A post shared by Shilpa Shetty Kundra (@theshilpashetty) on
She captioned the Instagram post, "It (beetroot) is a great source of iron and plant-based protein, and helps boost digestion."
If you are looking for another mouth-watering healthy dash of beetroot, here is chef Tarla Dalal sharing how to make Beetroot and Dill Salad.
Beetroot and Dill Salad 😗 beetroot and dill salad recipe is an Indian style beetroot and dill salad. This is a tasty and quick beetroot and dill salad to make with simple ingredients like beetroot, dill, olive oil, and mustard dressing. Preparation Time: 15 mins  Cooking Time: 0 mins  Total Time: 15 mins Makes 3 servings Ingredients To Be Mixed Into A Dressing 1 tbsp olive oil 1 tsp vinegar a pinch of mustard (rai / sarson) powder salt and to taste Other Ingredients For Beetroot and Dill Salad 2 cups boiled and peeled beetroot cubes 2 tbsp finely chopped dill leaves Method For beetroot and dill salad To make beetroot and dill salad, combine the beetroot, dil land dressing in a bowl and toss gently.Refrigerate the beetroot and dill salad for 1 hour and serve chilled. #salad #beetroot #dill #lunch #recipes
A post shared by Tarla Dalal Recipes (@tarladalal) on
What are you making?
For all the latest Lifestyle News, download Indian Express App
Source: Read Full Article