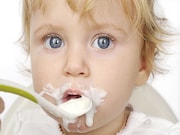 TUESDAY, Aug. 7, 2018 — Efforts to prevent childhood obesity probably should begin at birth to have any hope of success, according to new results from a pair of clinical trials.
First-time moms taught good nutrition strategies during their baby's first year wound up with 3-year-olds who were less likely to be overweight or obese, a Pennsylvania-based clinical trial discovered.
But a Nashville clinical trial — focused on kids between 3 and 5 years of age — failed to change the kids' risk for excess weight, even though the program was a much more rigorous effort to stem childhood obesity.
"When you look at prevention, you need to start really early," concluded Dr. Shari Barkin, lead researcher in the Nashville trial. She is chief of general pediatrics at the Monroe Carrel Jr. Children's Hospital at Vanderbilt University.
"Prevention isn't something you do for a short period of time, and it isn't something you do right before you become obese," she said. "It's something you need to start early and sustain."
About 20 percent to 25 percent of children ages 2 to 5 in the United States are overweight or obese, said Dr. Ian Paul, lead researcher of the Pennsylvania study. He is a professor of pediatrics at Penn State College of Medicine in Hershey.
"Once a child becomes overweight or obese, they're more likely to stay that way across the life course," Paul said. Because of that, it's critical to head off excess weight in children and teach them healthy life lessons.
For the Pennsylvania study, Paul and his colleagues recruited 279 first-time mothers and their infants shortly after delivery at Penn State Milton S. Hershey Medical Center in Hershey.
Half of the mothers received four hour-long in-home lessons during the child's first year of life, teaching them how to recognize and respond to a child who is drowsy, sleeping, fussy or alert.
The lessons focused on using methods other than food to deal with sleepless or fussy babies, and to recognize and respond to hunger appropriately, researchers said.
"Food is for hunger. Food is not for other things. Food should not be used to soothe. Food should not be used to reward," Paul said. "Food will work to make people happy or calm or quiet, but it shouldn't always be the response."
By age 3, toddlers whose moms received these lessons were less likely to be overweight or obese than those whose moms didn't get such guidance (the "control" group), researchers found.
Among the toddlers of trained moms, 11.2 percent were overweight and 2.6 percent were obese, compared to 19.8 percent overweight and 7.8 percent obese in the control group.
The Tennessee clinical trial focused on 304 low-income parent-child pairs, half of whom received ongoing counseling for three years when the kids were 3 to 5 years old.
The counseling began with 12 weekly 90-minute skill-building sessions that taught good nutrition, physical activity habits, engaged parenting, healthy sleep and reduced media time, researchers said.
After that, parents received nine months of monthly coaching telephone calls, followed by two years of texts, personalized letters and monthly calls reminding them of neighborhood opportunities to keep their kids healthy and active.
Even though this program involved a lot more time with parents, the kids were just as likely to be overweight or obese as children in a control group, the researchers found.
Parents did change their behaviors, resulting in a 100 calorie-per-day difference between the two groups, but that wasn't enough to stem average weight gain, Barkin said.
"Achieving sufficient amounts of behavior change might not be feasible for these extremely low-income minority populations," Barkin said.
The people Barkin's team focused on were much more economically disadvantaged than Paul's group, and this may have made some difference, the researchers said. Toxic stress and food insecurity can influence a person's risk of obesity in fundamental ways, Barkin noted.
Dr. Claudia Fox, co-director of the Center for Pediatric Obesity Medicine at the University of Minnesota, agreed that the Tennessee families' hardscrabble lives could also contribute to their obesity challenge.
"You're worried about getting food on the table for your kid, and we know stress can lead to obesity in the parents," she said. "It's likely some of that stress is transmitted to the kids as well."
But the programs' timing also could have been key, Barkin and Paul said. The earlier you teach parents these skills, the better for their children.
"We felt strongly about early intervention, before these parenting behaviors became entrenched," Paul said. "Some would argue to intervene even earlier, during pregnancy or pre-conception."
It also might be that the Pennsylvania trial's strategy of interactive one-on-one home visits was more effective than the community-based program used in Nashville, said Dr. Victor Fornari, director of child and adolescent psychiatry at Zucker Hillside Hospital in Glen Oaks, N.Y., and Cohen Children's Medical Center in New Hyde Park, N.Y.
"It appears that home visits may have more of an impact than educational strategies to build skills," Fornari said. "More research is needed to understand how to minimize obesity and improve health in these young children."
Fox had another theory, noting that moms in the Pennsylvania study were closer to normal weight than those in the Tennessee trial.
"That might be why they didn't do as well, because their moms are a little bit bigger," she said of the Tennessee kids. "Maybe they are just genetically different from the beginning."
The clinical trials were published Aug. 7 in the Journal of the American Medical Association.
More information
The U.S. Centers for Disease Control and Prevention has more about childhood obesity.
Posted: August 2018
Source: Read Full Article