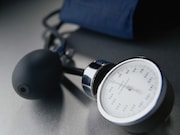 TUESDAY, Aug. 14, 2018 — Treatment with a pill combining low doses of three antihypertensive drugs results in an increased proportion of patients with mild-to-moderate hypertension achieving their target blood pressure (BP), according to a study published in the Aug. 14 issue of the Journal of the American Medical Association.
Ruth Webster, Ph.D., from the University of New South Wales in Sydney, and colleagues conducted a randomized trial of a low-dose triple BP therapy versus usual care for adults with hypertension requiring initiation or escalation of antihypertensive therapy. Patients enrolled from 11 urban hospital clinics in Sri Lanka were randomized to a once-daily fixed-dose triple combination pill (20 mg telmisartan, 2.5 mg amlodipine, and 12.5 mg chlorthalidone; 349 patients) or usual care (351 patients).
The researchers found that the proportion of patients achieving target BP was increased with the triple combination pill versus usual care at six months (70 versus 55 percent; risk difference, 12.7 percent). At six months, the mean systolic/diastolic BP was 125/76 versus 134/81 mm Hg for the triple combination pill versus usual care (adjusted difference in post-randomization BP over entire follow-up: −9.8 and −5.0 mm Hg for systolic and diastolic BP, respectively). Overall, in 255 patients there were 419 adverse events (38.1 percent for triple combination pill versus 34.8 percent for usual care).
"Use of such medication as initial therapy or to replace monotherapy may be an effective way to improve BP control," the authors write.
Two authors disclosed financial ties to George Health Enterprises, which has received investment funds to develop fixed-dose combination products containing aspirin, statin, and blood pressure-lowering drugs and has submitted a patent for the treatment of hypertension.
Abstract/Full Text (subscription or payment may be required)
Editorial (subscription or payment may be required)
Posted: August 2018
Source: Read Full Article