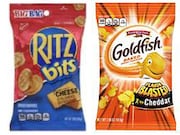 THURSDAY, July 26, 2018 — Ritz and Goldfish crackers, Swiss Rolls — they've all been tied to possible salmonella contamination through a common ingredient, dry whey powder, U.S. officials say.
"There are no confirmed illnesses related to these products," commissioner Dr. Scott Gottlieb stressed in a U.S. Food and Drug Administration news release on Thursday. "But we know these products are consumed daily across our country, often by children, which is why we're alerting consumers now."
Gottlieb said, "Our team is onsite investigating the facility that processes the dry whey used in the recalled products and we're working to identify what other companies may have used this ingredient to determine what, if any, food may be contaminated with salmonella."
Minnesota-based Associated Milk Producers Inc. (AMPI) recalled the dry whey powder due to potential salmonella contamination, the FDA said.
Mondelez International Inc., Pepperidge Farm Inc. and Flowers Foods Inc. have already recalled Ritz cheese sandwiches and Ritz Bits cheese products, Goldfish crackers, and various brands of Swiss Rolls, respectively, because they contained the suspect whey powder.
There may be additional recalls of other food products in coming days as the investigation uncovers other companies that may have used AMPI's whey powder, Gottlieb warned.
Salmonella typically causes illness 12 to 72 hours after exposure. Illness usually lasts four to seven days, and most people recover without treatment, according to the FDA.
Gottlieb stressed that there's been no surge in food recalls, despite the recent activity.
"Lately there have been many questions about whether we're experiencing an uptick in food-related recalls. I can understand why it might appear that way, as we've increased our communications around food recalls and potential risks to food products," he said.
"But we are not seeing an increase in the number or scope of recalls," Gottlieb explained. "Our tools for detecting them are much better, and our policies for how and when we alert the public lean in the direction of more and earlier communication," he added.
More information
There are more details on the recalled products at the U.S. Food and Drug Administration.
Posted: July 2018
Source: Read Full Article