World Egg Day: Try these unique and delicious egg-based recipes, from Huevos Rancheros to Oyakodon, courtesy Swasti Aggarwal, Food Startegist, Foodhall. 
Shakshuka
Shakshuka is how the Middle East devours on eggs.
Cook rime: 25 minutes
Serves: 4-5 people
Ingredients:
5 eggs, 1 red onion finely chopped 1 red pepper finely chopped, 2 red tomatoes finely chopped, 1 cup tomato puree, 1 tsp cumin powder, 1 tsp paprika, 1 tsp chilli powder, ¼ cup crumbled feta cheese, ¼ cup parmesan cheese, 4 garlic cloves, finely chopped, Cilantro finely chopped for garnish, oil, salt & pepper to taste
Method:
Add oil in a hot pan and drop the chopped garlic. Stir and allow it to infuse in the oil for a while.
In a minute or so, scatter the chopped onion. Season with salt and pepper and allow it to soften a bit. Make sure the onion does not brown.
Next, add the chopped red peppers and continue slow cooking until the peppers are softened. This should take about 10 minutes.
Add chopped tomato, pour the tomato puree, sprinkle some salt and give it a stir. Add cumin powder, paprika and chilli powder. Stir and continue cooking until it turns into a thick sauce. Add water if it gets too dry or starts sticking at the bottom of the pan. The sauce should take a few minutes to be ready and once done, add both feta cheese and parmesan cheese. Give it a stir.
Crack the eggs on the sauce and cover the pan. In about two minutes, the eggs should be cooked through.
Sprinkle finely chopped cilantro and serve warm.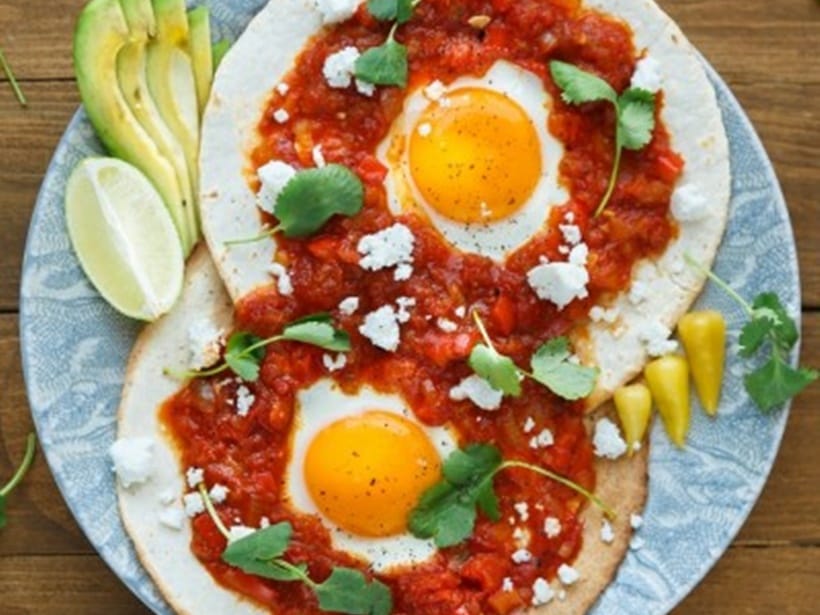 Huevos Rancheros
Huevos Rancheros is how you should welcome your mornings.
Cook time: 30 minutes
Serves: 5- 6 people
Ingredients:
1 onion finely chopped, 2 cloves of garlic finely sliced, 2 red peppers finely sliced, 2 fresh red chillies deseeded and finely sliced, 1 dried ancho chilli, 3 bay leaves, 800g tinned tomatoes, 2 tomatoes sliced, 6 eggs, 6 tortillas, 1 cup queso fresco crumbled, lime & fresh coriander for garnish, salt & pepper to taste, olive oil for cooking
Method:
Set a large frying pan on a high heat and drizzle some olive oil. Toss in the onion, garlic, peppers, fresh and dried chillies, bay leaves and a pinch of salt and pepper. Stir and cook for 15 minutes to soften and caramelize the onions.
Add your tinned tomatoes and use the back of your spoon to mash them up. Bring to the boil and then turn down to a medium heat to cook for five minutes. It will reduce down to a thick, stew-like consistency.
Adjust seasoning and lay your sliced tomatoes over the top of the mixture.
Use a spoon to make small wells in the tomato stew, and crack in your eggs so they poach in the sauce. Season from a height and put the lid on to let the eggs cook for around 3 to four minutes.
Warm your tortillas in the oven at 180 degrees Celsius for a few minutes. You could even heat them up in a pan.
Take the lid off and check if the eggs are cooked by slightly poking the yolk with a finger. Turn the heat off when ready.
Prepare by laying tortilla on a plate and loading it with an egg and some of the delicious tomato sauce on top, squeeze of lime and fresh coriander. Crumble some queso fresco on top, wrap it up, and eat it right away.
Also Read| World Egg Day: Burger to biryani, make these yummy dishes for kids
Oyakodon – Japanese Chicken & Egg Rice Bowl
A comforting bowl of chicken, egg and rice with subtle flavours of ingredients from Japan.
Cook time: 30 minutes
Serves: 2
Ingredients:
2 pc Chicken boneless and skinless thighs, ½ Onion, peeled, 2 large eggs, 2/3 cups dashi, 1 ½ tbsp mirin, 1 ½ tbsp sake, 1 ½ tbsp soy sauce, 1 ½ tsp granulated sugar,
To serve:
3 cups Cooked Japanese short grain rice, Chopped spring onion/scallion, Shichimi Togarashi to taste
Method:
Combine dashi, mirin, sake, soya sauce in a bowl, add sugar and mix until dissolved.
Thinly slice the onion and finely chop scallions.
Beat the eggs in a small bowl. Slice the chicken thigh diagonally and cut into 1.5″(4 cm) pieces.
In a pan, saute onions until soft and then add the chicken and toss on low heat.
Pour roughly ½ of the seasoning sauce to cover the onion and chicken.
Turn up the heat to medium & bring to boil. Simmer till chicken is not pink anymore and cooked.
Slowly and evenly drizzle the beaten egg over the chicken and onion.
Cook it covered, on medium heat until the egg is cooked till desired doneness.
Add the scallions right before removing from the heat.
Pour the chicken and egg on top of steamed rice, drizzle remaining sauce and a generous amount of Togarashi. Serve
Source: Read Full Article