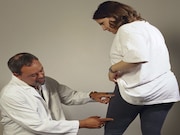 WEDNESDAY, Aug. 15, 2018 — Trying to restore blood flow may be better than amputation for patients with a serious leg circulation problem called critical limb ischemia, a new study contends.
Critical limb ischemia is the most severe form of peripheral artery disease (PAD) and can lead to ulcers, gangrene and amputation, the researchers said.
"Many patients who are diagnosed with critical limb ischemia are told amputation is their only option," explained study author Dr. Jihad Mustapha.
"But amputation is associated with many poor outcomes, including shorter survival, depression and loss of independence," he added.
Mustapha is a cardiologist who specializes in critical limb ischemia at the Advanced Cardiac & Vascular Amputation Prevention Centers in Grand Rapids, Mich.
His team reviewed the medical records of more than 72,000 Medicare patients diagnosed with primary critical limb ischemia between 2010 and 2015. Medicare is the primary payer for about 75 percent of critical limb ischemia-related hospitalizations in the United States, the researchers said.
Over four years, survival rates were 23 percent among patients who had amputations; 38 percent among those whose blood flow was restored by angioplasty; and 40 percent among those who had vein grafts to bypass blocked blood vessels.
During follow-up, annual health care costs were $55,700 for amputation; $49,700 for angioplasty; and $49,200 for vein grafts.
The findings were published Aug. 15 in the Journal of the American Heart Association.
"It's important that people know that amputation is not the only solution, so always get a second opinion," Mustapha said in a journal news release.
Another vascular expert said the findings prove that amputation isn't the only alternative.
"The study successfully points out that those initially treated with minor or major amputation are in fact more likely to require another major amputation over the course of the next four years," said Dr. Maja Zaric, an interventional cardiologist at Lenox Hill Hospital in New York City.
"The primary major amputation appears to be associated with shorter survival time, higher risk of subsequent major amputation, and higher health care costs" than trying to restore blood flow to the damaged limb, Zaric added.
Dr. Stephen Waldo is an assistant professor of cardiology at the University of Colorado School of Medicine, and Dr. Javier Valle is an interventional cardiologist at Denver Veterans Affairs Hospitals. They wrote an editorial that accompanied the study.
The editorial said that the study shows the "significant clinical and financial burden that critical limb ischemia poses to our health care system. Considerable efforts are still needed to raise disease awareness and establish data that can guide further medical and procedural management, given the critical importance of limb ischemia."
More information
Vascular Cures has more on critical limb ischemia.
Posted: August 2018
Source: Read Full Article