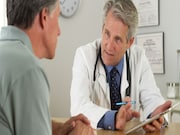 TUESDAY, Aug. 7, 2018 — Many lives could be saved if relatives of patients with aortic diseases underwent routine screening and genetic testing, a new study suggests.
Aneurysms, tears in the lining called dissections and other types of thoracic aortic disease (TAD) are often undetected until they become life-threatening emergencies. At that point, the risk of death is about 80 percent.
The aorta is the main artery that supplies blood from the heart.
In the new study, British researchers found that more than 30 percent of relatives of patients with thoracic aortic disease had a genetic risk for the disease.
"The evidence suggests that screening of first- and second-degree relatives of patients affected by familial non-syndromic TAD, and first-degree relatives of those affected by sporadic TAD will result in a significant number of patients being diagnosed who would otherwise remain unaware they suffer from the disease," said study leader Dr. Giovanni Mariscalco.
This screening "could potentially save lives," Mariscalco, an associate professor in the University of Leicester's cardiovascular sciences department, said in a university news release.
Gareth Owens, chairman of Aortic Dissection Awareness in the United Kingdom and Ireland, said many doctors have believed there is little chance of preventing aortic dissection. "Traditionally, [it] has been regarded by the medical profession as a 'silent killer', striking mainly the over-65s," he said in the release.
"This research shows that there is a significant cohort of up to 30 percent of patients, including many younger patients, in whom a genetic predisposition to aortic dissection can and should be detected through appropriate screening. Prevention is always better than cure," Owens said.
And according to Gavin Murphy, a professor of cardiac surgery at the University of Leicester, a combination of genetic and imaging tests, including echocardiogram, CT-scan and MRI of the aorta, could help identify at-risk patients.
"Now that we have a better idea of the percentage of relatives of people with aortic diseases who are also likely to suffer with the condition, we can start to ascertain the financial viability of introducing routine screening for this at-risk group," Murphy said.
The study was published online recently in the Journal of the American Heart Association.
More information
The Society for Vascular Surgery has more on aortic dissection.
Posted: August 2018
Source: Read Full Article