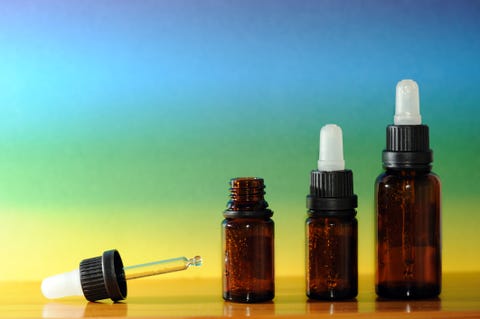 You can sprinkle a few drops in a smoothie, put it under your tongue, or even vape it. We're talking about CBD oil. It's from a cannabis plant, but you can tell your mom not to worry: It won't get you high.
To say there is hype surrounding CBD right now is no exaggeration: "CBD is showing promise as a pain reliever, epilepsy treatment, and for wasting disease associated with cancer," says Taz Bhatia, M.D., an integrative health expert.
But does the stuff really work?
A post shared by CBD FIT RECOVERY (@cbdfitrecovery) on
What is CBD?
"Cannabidiol (CBD) is one of over 80 phytocannabinoids, or chemical compounds, produced by the cannabis plant," says Sarah Cohen, secretary, R.N., of the American Cannabis Nurses Association.
CBD oil is what you get when you take cannabinoids from cannabis and mix them with a carrier oil, like MCT (a form of coconut oil), explains Devin O'Dea, the chief marketing officer at MINERAL Health. Until recently, THC (or tetrahydrocannabinol), the compound in cannabis that gets you high, was the most well-known element of the plant—but now CBD is giving THC a run for its money.
Can CBD oil make you high?
Let's be very clear: "CBD oil will not get you high," says Bhatia. "The compound in marijuana that causes the characteristic psychoactive 'high' is found in THC, not CBD." That doesn't mean it's not psychoactive, though, says Cohen, as it just might help reduce anxiety and depression.
FYI: It is possible for extracted CBD oil to contain trace amounts of THC, since both compounds are present in the plant. So if your workplace has a zero tolerance policy, you might want to steer clear.
CBD is legal in all the states where recreational marijuana use is legal—eight states, including California and Colorado—according to Quartz. The same goes for states where medicinal use is allowed; but from there, the legality of CBD gets a little murky.
Basically, you've got to do some digging to find out of CBD is legal in your state.
Why do people use CBD oil?
What don't they use it for? People say CBD help reduce pain, anxiety, depression and stress, improve the immune system, reduce inflammation, and more.
Forty-two percent of CBD users said they stopped using traditional medications like Tylenol or prescription drugs like Vicodin in favor of CBD, in a survey conducted by Brightfield Group and HelloMD, an online community bringing doctors and cannabis patients together. Eighty percent of those people said they found the products to be "very or extremely effective."
What's a typical CBD oil dosage?
While it varies by product, Bhatia says most CBD oil comes in 10 to 15 milligram doses per one milliliter of oil (the size of a standard dropper).
But the actual amount of CBD you're getting in your oil can vary hugely. That's because the FDA generally considers the oil a dietary supplement—which they don't monitor or regulate.
"There's no real control, and there's no requirement for content or dose in the generally-available dispensaries sold or distributed in the states where it's legal," says Welty. He notes that multiple studies have found that over half the time, the dose of CBD on the label is not what's actually in your bottle. "Ultimately there's no way to tell how much is in a product," he says.
The only real guideline for an "effective" dose is what's been studied for treating seizures—a use that was recently approved by the FDA, says Timothy Welty, PharmD, chair of the department of clinical sciences at Drake University's College of Pharmacy and Health Sciences.
The most-cited study used 25 milligrams per kilogram of body weight per day in children, with a max dose of 50 milligrams per kilogram per day. "But the dose may be less for adults, because children tend to metabolize more rapidly than adults," says Welty.
Taking CBD #sublingually is ideal for those who have digestive or gastrointestinal issues, as it completely bypasses the body's digestive system. As a bonus, this also allows the CBD to enter your bloodstream sooner. Unlike capsules ?, CBD oil allows for more customizable doses. This is because you can use as much or as little as you choose when taking an oil, whereas each capsule holds the same amount of CBD, allowing you to take it in only multiples of that milligram amount. CBD oils are also our most potent product, and the best value in terms of dollars per milligrams.? __________________________________ www.sastr.ca 1119 Goderich Street, Port Elgin 215 10th Street, Hanover 640 10th Street West, Owen Sound 5 First Street, Orangeville ___________________________________ #Cannabis #Hemp #Organic #CBD #CBDIsolate #Isolate #Tincture #CBDTincture #HempHeals #MedicalCannabis #Concentrates #Extracts #CBDLife #CBDHelps #Love #Roses #SASTR #PhotoOfTheDay #PicOfTheDay #InstaGood #NaturalHealth #EndStigma #HempOil #CBDForPets #CloudsOverCanada #CBDOil #CanadianStoners
A post shared by Stop & Smell The Roses ???19+ (@sastr.ca) on
Can CBD oil really help treat pain and anxiety?
Some promising research has started to back up claims about CBD oil and pain. "Several studies show that CBD reduces chronic pain with muscle spasms, arthritis, and nerve pain," says Bhatia, who referenced a 2012 study in the Journal of Experimental Medicine and a 2016 study in the European Journal of Pain, both of which found reduced chronic pain or arthritis pain levels with CBD.
Welty explains that CBD oil likely enhances the effects of pain-relieving medications (like Tylenol or Advil)—but on its own "likely doesn't control pain."
That said, there really isn't enough research yet to know for sure either way. "There are small studies and case theories, but they're not well-designed," says Welty. "The problem is that you're not using a standardized product. Only the epilepsy studies are highly-controlled in different settings."
OUR HEMP OIL IS 30% OFF TODAY – check out the link in our bio for your discount code! • Edith from @edithagoston added it to her homemade almond milk this morning ? • Benefits of Hemp Oil: ? a boost in immunity ? a reduction in stress ? improved hormonal balance ? lower cholesterol levels ? a reduction in pain ? less anxiety
A post shared by Maju Superfoods | Fueling Life (@majusuperfoods) on
The same goes for CBD's effect on anxiety. At this point, it's not really clear how or why CBD may help with anxiety, although the drug is well known to have a sedative effect. "It may work on what's called the endocannabinoid system in your brain," says Welty. That endocannabinoid system, which impacts the central nervous system, influences neurological activities like pleasure, memory, and concentration.
But we may have a more definitive answer soon. "There are ongoing, well-designed studies for pain and anxiety using new pharma-grade CBD products. They will show us pretty clearly whether or not the drug is effective," says Welty.
What about all those other benefits of CBD oil?
The one use for CBD oil that has been given a gold star by the FDA: epilepsy. However on announcing their approval this June, the agency released another statement cautioning that lots more research needs to be done before CBD oil can be considered safe and effective for other uses.
With that said, CBD oil has been researched quite a bit—albeit again not quite up to snuff for many mainstream medical experts like Welty.
Some studies show that CBD may reduce inflammation, which can be caused by physical or emotional trauma, diet, food intolerances, diseases, and viral and bacterial infections, says Bhatia.
Since autoimmune diseases are almost always linked to inflammation, it makes sense that research shows CBD may help with inflammatory disorders like multiple sclerosis, Hashimoto's disease, asthma, lupus, celiac disease, and more.
Researchers have also found that giving CBD to schizophrenic patients appeared to reduced psychotic symptoms such as hallucinations and disordered thinking.
"But the main things that have been studied are pain and anxiety, and a lot of work has been done around multiple sclerosis," says Welty.
From green beer to CBD matcha, I've always kept #stpatricksday lit like a pot o' gold. ?? ? ? Today's vegan post-workout includes my favorite edible from @mondomeds to reduce inflammation and up the relaxation. Find the full recipe on www.overpackedlife.com! ?
A post shared by Ally Holt (@allyholt) on
Does CBD oil have any side effects?
The simple answer here is that researchers don't fully understand the downsides to CBD oil. "We haven't seen a lot of negatives with CBD oil," says Bhatia. "But we don't know the long-term effects yet of using this yet."
If you suffer from anxiety/depression seriously… Get off the pills and try some CBD oil. Changed my life!
The most common side effects of CBD oil are sedation along with GI symptoms like diarrhea, says Welty. Studies have also found that about one in 10 people taking CBD had higher levels of liver enzymes, which can be a sign of liver damage. "About 1 percent of patients in the epilepsy studies had to discontinue use because liver enzyme increases were high enough that they were dangerous," he adds.
Beyond that, there are no other known chronic issues, Welty says. In fact, the World Health Organization has said that "CBD exhibits no effects indicative of any abuse or dependence potential," and that "CBD is generally well tolerated with a good safety profile."
CBD: Paradise in a bottle. ??
A post shared by CBD Oil Solutions (@cbd_oil_solutions) on
Still, purity is a cause for concern: A 2017 research letter in the Journal of the American Medical Association (JAMA) analyzed 84 CBD products sold by 31 different online companies, and found that one in five contained marijuana components like THC, which could result in intoxication, especially if children were to take them.
Other studies have shown that about half of CBD oils have other contaminants like herbicides, fungicides, and fungus, adds Welty. But some states (like Iowa) are developing a system in partnership with manufacturers where government regulators will monitor and check CBD oil for purity Welty notes.
CBD oil may also interact with other drugs. It appears to be dangerous in combo with valproic acid—a common seizure medication used to treat depression and bipolar disorder—as well as blood thinners. "As with any new drug, there are still a lot of unknowns," says Welty.
Like any medication, "if you are considering trying CBD oil, do your research and discuss it with your doctor before making a decision," says Bhatia. Sure, while isn't any research that should have you running to your doctor for a prescription just yet—there is some pretty convincing anecdotal evidence.
Source: Read Full Article