Diwali 2018: Celebrate the festival by making these yummylicious sweets for your family.
By Prachi Mandholia
Be it for an adult or a kid, no diwali celebration is complete without indulging in sweets. But if you add a health quotient to these sweets, you can enjoy it guilt-free as well as offer them to your kids willingly.
Home-made sweets may turn out be a better choice with use of fresh ingredients and jaggery or honey instead of sugar. Try to avoid buying sweets, mainly for two reasons. Firstly, the type of ghee or fat used to make these sweets may be of a cheaper quality, and secondly, it is loaded with sugar.
Try these simple and easy recipes for a healthy festivity.
Energy Bite
Ingredients
Almonds – 3/4 cup, Walnuts – 1/2 cup, Ground Flaxseeds – 2 tsp, Cinnamon Powder – 1/4 tsp, Fresh Dates – 5
Method
Blend the almonds and walnuts in a food processor to a crumbly texture.
Add ground flaxseed powder, cinnamon powder and dates to the nuts mixture and blend to form a sticky dough.
Shape into little balls.
Leave it for sometime to take shape and then serve.
Coconut Laddoo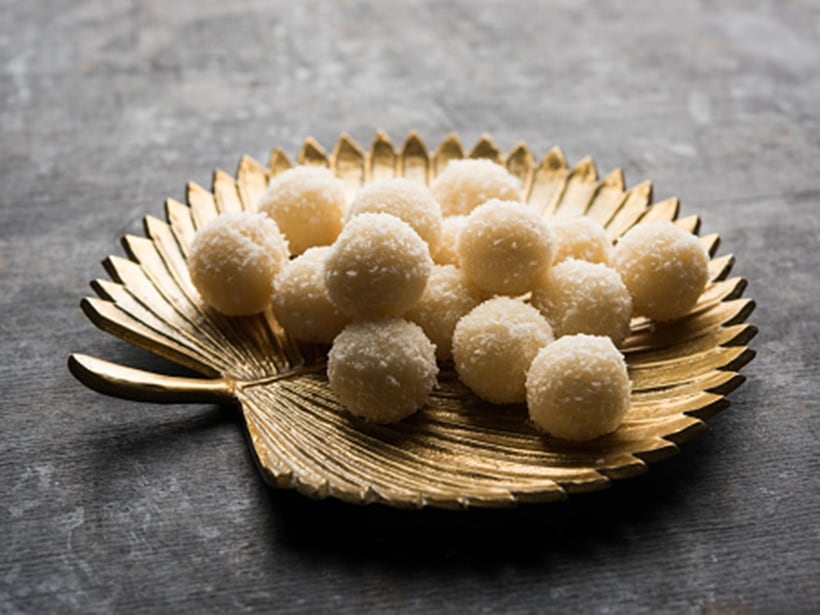 Also Read: What firecrackers should you buy this year?
Ingredients
Fresh Coconut, shredded – 1 1/2 cup, Grated Jaggery – 2 tablespoon, Ghee – 1 tsp
Method
Pulse the shredded coconut in a blender to a coarse mixture.
Heat ghee in a pan, add coconut and roast it stirring occasionally.
Add jaggery to the coconut mixture and mix well.
Remove the mixture from the pan and cool slightly.
Shape them into balls and serve.
Rose Phirni
Ingredients
Milk – 500ml, Rice – 50 g, Honey – 3 tsp, Rose water – 1 tsp, Green Cardamom Powder – 1/2 tsp
For Garnish
Almond and Pistachio Slivers, Rose Petals
Method
Rinse and soak the rice in water for about 3-4 hours.
Drain the water and grind the rice into a coarse paste in a blender.
Heat the milk in a saucepan.
When it boils, simmer and add the ground rice paste.
Cook with constant stirring, until the rice is cooked.
Add cardamom powder.
Cool the mixture slightly and add honey.
Pour it into a clay pot or other serving bowl.
Garnish with nuts and rose petals.
Chill for few hours and then serve.
Badam Katli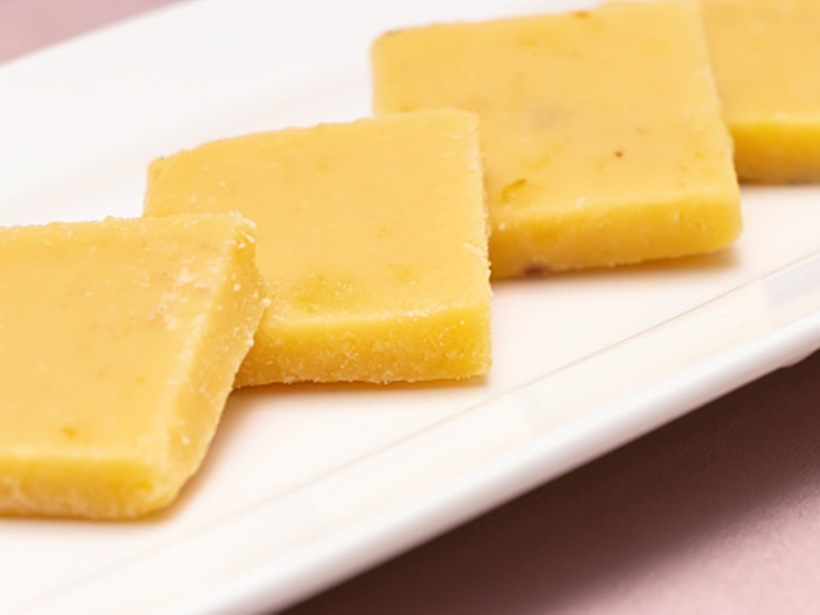 Ingredients
Almonds, soaked – 3/4 cup, Cow's Milk – 1/2 cup, Grated Jaggery – 2 tablespoon, Ghee – 2 tsp, Green Cardamom Powder – 1/4 tsp, Saffron, soaked in water – few strands
Method
Peel the almonds and blend them in a food processor along with milk to make smooth paste.
Heat ghee in a pan and add the almond paste.
Cook on low flame, stirring continuously.
Add jaggery and cardamom powder and mix well.
Remove the mixture on a plate and spread it evenly into a square.
Cut into katli shape or as desired.
Once cool, serve
Fruit Custard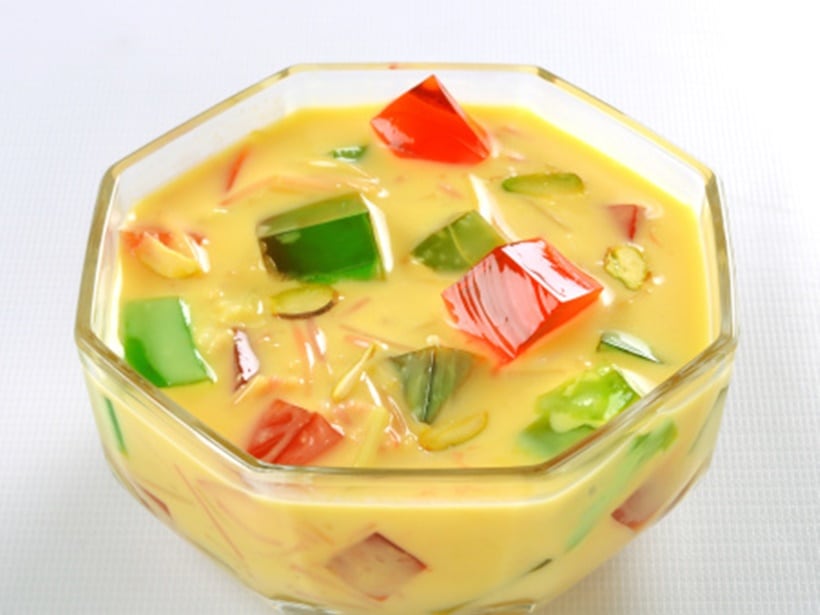 Ingredients
Cow's Milk – 2 cups, Mixed fruits – 2 cups, (Orange, pomegranate, apple, pineapple) Custard Powder – 2 tsp, Honey – 2 tsp
Method
Heat milk in a saucepan.
Meanwhile add custard powder to 4 tbsp of cold milk and mix well.
When the milk is hot, add the custard powder mix and stir.
Keep stirring until the custard thickens.
Remove from the flame and cool.
When cooled, add honey.
Wash the fruits and chop them to bite size.
Add the fruits to a bowl.
Pour custard on the fruits and mix gently.
Chill and serve
(The writer is a registered dietitian and a certified diabetes educator. She is a practicing Clinical Nutritionist, based out of Mumbai. For more ideas, email at [email protected])
Source: Read Full Article