TV personality Mandira Bedi and her director husband Raj Kaushal have consciously devised a parenting strategy that blurs traditional gender roles.
By Zofeen Maqsood
It's 7 am on a Saturday morning and TV personality Mandira Bedi and Bollywood director Raj Kaushal's Mumbai home is already abuzz with action. Dad Raj is busy reading about the Pushpak Viman and its relevance in Indian mythology to his seven-year-old son Vir. The father and son duo have their day chalked out carefully. Very soon, it will be time for a walk in the park, followed by lunch at Vir's favourite eatery. Then Dad will oversee his son's homework before some game time and a late evening movie since it's no school for Vir the next day. Mom Mandira had to leave at 6 am for a shoot and won't be back before much later in the night.
Daddy-led parenting
It is not an unusual routine for the modern-day couple. With both Mandira and her husband Raj in highly demanding professions, it's often that mom Mandira has to travel, even for days at a stretch, leaving Raj as the primary care-giver for their son, a duty that Raj describes as a privilege.
Raj and Mandira belong to a new league of parents who are bending the traditional gender roles and are practicing a parenting style referred in pop culture as "daddy-led parenting".
While millennial parenting is often talked about for giving us metrosexual dads, or fathers who were keen to help not just restock the baby wipes but also doing the dishes once in a while, daddy-led parenting is about a gender reset where dad is more often than not primarily responsible for the child. Raj Kaushal laughingly admits that their seven-year-old, who is used to having his dad hovering around him for all his needs, has sometimes begun calling Raj "Mom" and Mandira "Papa"! A role reversal that leaves Raj feeling empowered and mom Mandira liberated.
Dads can be great moms, too!
On why Indian dads still prefer the fun-time parent role of taking the kids for a movie or a meal, instead of full-time responsibility, Kaushal says, "Dads can be great moms; only if the moms would cut the umbilical cords."
Explaining his stance, he adds, "While it is true that during the early stages of a newborn's life, they bond better with moms because of nursing needs, often dads don't get to develop that maternal side because moms are so used to surrounding the baby." On how the couple struck this not-so-usual balance as parents, Raj says, "Mandira has been wonderful in giving me that opportunity. She was understanding enough that I had equal intent in my head about our son's safety, security and his needs. Early on in our journey as parents she let me take the lead and that has made all the difference. If Mandira was nursing the baby, I was asked to burp and put him to sleep from Day One. The first time Mandira had to travel overnight after her delivery, Vir was only three months and none of us thought twice about the infant being with his Dad only."
The baby pact
But does it help for couples to have a talk about parenting roles before the baby arrives? Raj says, "Mandira and I were married for 20 years before we had a baby. While I was always ready, Mandira took some time as she knew we were in demanding careers and didn't want nannies to take over the parenting responsibilities. We did make a pact that one of us will always be there for our baby no matter how busy life gets."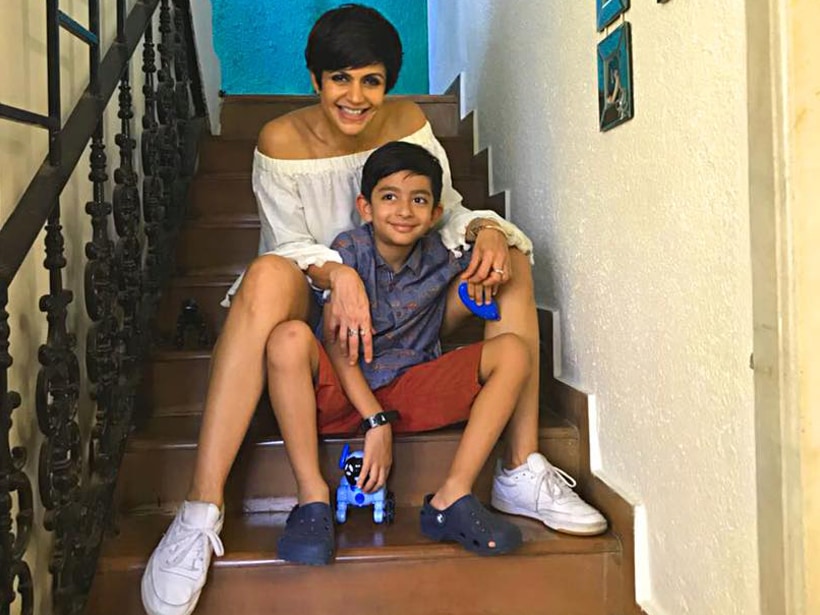 It's time for men to step up
And has he ever received a gentle societal nudge on being an overly responsible Dad? Raj says, "Even if I did, I chose not to look in that direction. But refreshingly, I find a lot of dads around me getting equally involved in their children's parenting." Maybe it has something to do with evolution and newer parenting ideas?  Raj agrees, "Perhaps a generation or two ago, we were conditioned to think that dads will have a partial role. We were told that dads were the stricter parents or someone kids had to be scared of. Or it was not unusual for moms to tell the kids that Dad is just back from work and must be tired. Today, a woman is as responsible for her household as a man is. It's about time that men be as responsible in parenting."
Daddy-son vacations
But aside from taking up the parenting rigmaroles such as making sure the kid brushed their teeth or being on top of their progress in school, what are the fun daddy-baby moments that he recommends?
"Well, I certainly recommend something that we began as a family a couple of years ago. Every year, I take a vacation with my son alone." The hands-on Dad admits that while other parenting roles were easier to slip into, he had to win Mandira's trust for this one the first time he suggested a daddy-son holiday.
He recalls, "I first travelled alone with my son to this beautiful property in Mandera, a place between Mumbai and Goa. Now the catch was that this place was a mud house out in the wilderness near the ocean. So, there was a beach but one that had a hundred small crabs! But I wanted my son to experience a real beach that wasn't sanitised. So, we went with a battalion of people for the mom's comfort and had two cooks and their families, my driver and his son to keep Vir company. It was magical as we swam in the ocean and swung by the trees and I got to show my son the real unfiltered life; we have kept the tradition going."
He advises all men to take their kids to eventful holidays to show them the rough and calm of life, and build a beautiful paternal bond. Raj says, "We also often take family holidays with our friends and the rule is that the evenings will be Daddy and kid time, while the moms can go shop or book themselves in a spa."
"The idea," he says, "is not only for moms to take time-off but also for kids that kids to know that fathers are not just helpful but responsible too."
Source: Read Full Article