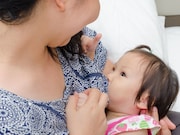 TUESDAY, Aug. 7, 2018 — New mothers who are exposed to secondhand smoke at home stop breast-feeding sooner than those in smoke-free households, researchers report.
"Just being in a smoking household — whether it was the husband, mother or member of the extended family — reduced the time that a child was breast-fed," said study author Marie Tarrant. She directs the School of Nursing at the University of British Columbia Okanagan Campus in Canada.
The study included more than 1,200 new mothers in Hong Kong, where Tarrant used to teach.
The new findings were consistent with previous studies, she said.
"More than one-third of participants had partners or other household members who smoked. And fathers who smoked were significantly less likely to prefer breast-feeding when compared with non-smoking partners," Tarrant said in a university news release.
The findings suggest that it's a good idea for others in the home to quit smoking before a woman gets pregnant, and to avoid it until she is no longer breast-feeding.
"Babies who are around smoking are more likely to get respiratory infections and experience other respiratory problems," Tarrant said.
"However, if a mother is breast-feeding, the benefits of her doing that still outweigh the negative effects of the smoking as long as she maintains good smoking hygiene and doesn't expose the baby to tobacco smoke," she added.
The study was published online recently in the journal Breastfeeding Medicine.
More information
The American Academy of Family Physicians has more about breast-feeding.
Posted: August 2018
Source: Read Full Article