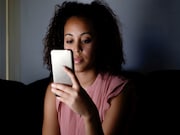 TUESDAY, Aug. 7, 2018 — Photo-editing tools that make people look more perfect online than in real life may be a health threat, medical experts warn.
The tidal wave of altered photos on social media is changing perceptions of beauty. And that can trigger a preoccupation with appearance that leads to risky efforts to hide perceived flaws, researchers suggest. Those efforts include behaviors like skin altering and even plastic surgery.
This condition — called body dysmorphic disorder — affects about 2 percent of people, research shows.
Studies have found that teen girls who alter their social media photos tend to be more concerned with their body appearance, and those with dysmorphic body image use social media for validation, according to the authors of a report published Aug. 2 in JAMA Facial Plastic Surgery.
Other studies have found that 55 percent of plastic surgeons have seen patients who want to look better in selfies.
"A new phenomenon called 'Snapchat dysmorphia' has popped up, where patients are seeking out surgery to help them appear like the filtered versions of themselves," said the new report's co-author, Dr. Neelam Vashi. She's director of the Ethnic Skin Center at Boston Medical Center and Boston University School of Medicine.
The authors of the report warn that surgery may worsen, not improve, body dysmorphic disorder in such patients. Mental health treatment is a better remedy, they advised.
"Filtered selfies can make people lose touch with reality, creating the expectation that we are supposed to look perfectly primped all the time," Vashi said in a medical center news release.
"This can be especially harmful for teens and those with body dysmorphic disorder, and it is important for providers to understand the implications of social media on body image to better treat and counsel our patients," she said.
More information
The U.S. Office on Women's Health has more about body image.
Posted: August 2018
Source: Read Full Article