Our dogs LOVE their KONGs, and we pet owners love them too, as this bouncy, hollow chew toy / vessel-of-awesomeness is a life savor if you have an active dog or is an energetic puppy.
What is a KONG?
For those of you who aren't familiar with the KONG or Kong Company, KONG Company is an American company based in Colorado that develops, designs, and produces lines of dog and cat toys. Their primary line of product is a snowman-like chew toy for dogs also named Kong.
What's so great about KONG in particular?
There are tons of great puzzle and chew toys for dogs out there; however, the KONG Classic is our go-to for its durability and multi-use capabilities. When not filled, the KONG acts as a chew toy and can even be used to play a good 'ol game of fetch. Click here to see our latest Facebook Live where we play fetch with a couple of awesome dogs.
Why stuff a KONG?
Many dogs are motivated by food and KONG toys are perfect for stuffing with treats or kibble to keep dogs busy. A classic KONG filling is often peanut butter or a favorite treat, however, pet owners are taking their KONG game to the next level with some pretty creative concoctions, all of which have been tested and approved by our very own dogs here at Fetch! Pet Care. If you already have one of our wonderful Fetch! Pet Care sitters walk your dog daily, you may want to prepare a week's worth of these treats ahead of time so that he / she may offer one to your dog after each walk.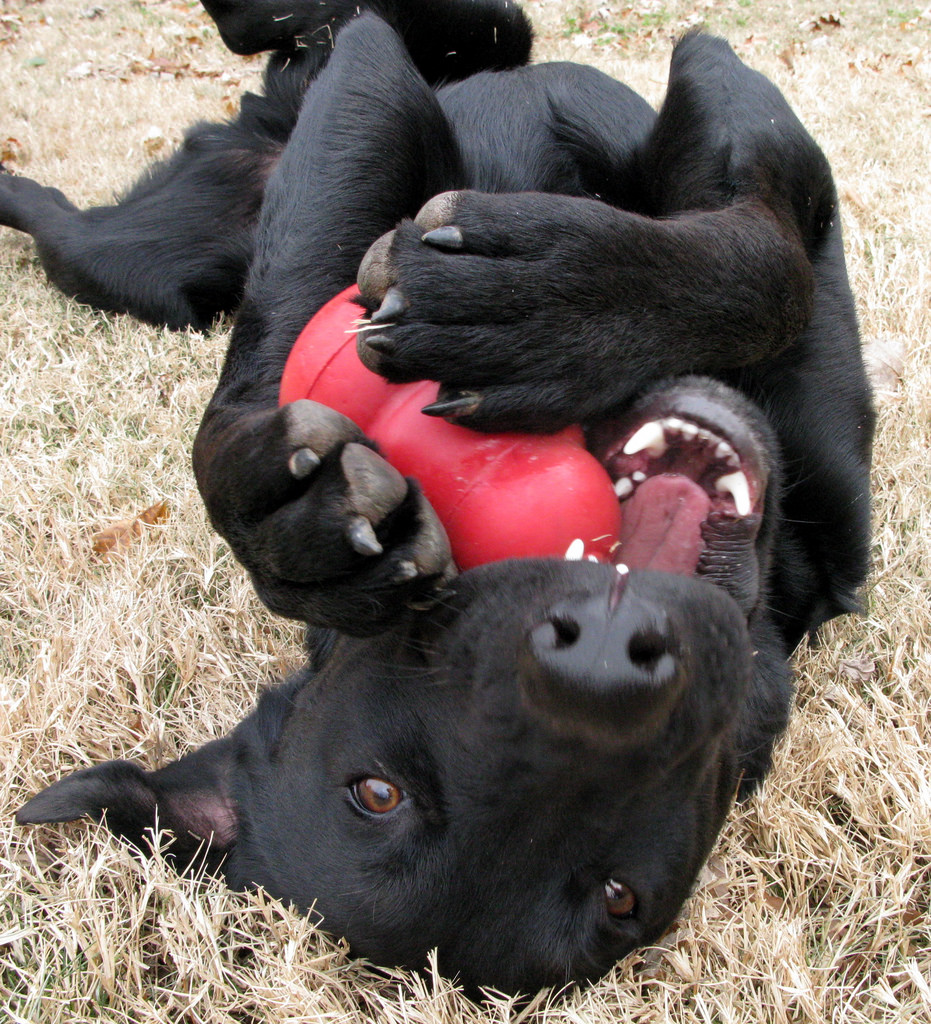 The method
For all recipes below you'll want to mix the ingredients in a medium-sized bowl, fill the KONG to the top, freeze and serve. Before offering the prepared KONG to your dog, run it under lukewarm water to remove any very cold ice or icy filling from the exterior of the KONG so as to not hurt your pup's tongue or mouth.
Pro Tip: Use a muffin tin to hold your filled KONGs upright for freezing. Line the base of the KONG with peanut butter to seal it tight so that any mixture you add does not leak out. If your dog has a nut allergy, consider cream cheese as a sealant.
Editor's Note: Please consult your veterinarian if your dog has any dietary restrictions, allergies, or gastrointestinal issues that could worsen as a result of a new food being introduced to their diet.
Cheesy Yogurt 
Not quite cottage cheese, cheesy yogurt has more flavor and texture than an all-cottage cheese-filled KONG. Simply mix 1 cup plain yogurt, 2 tablespoons Parmesan cheese, and 1 tablespoon shredded cheddar cheese to fill your KONG the cheesy way.
Electrolyte Boost
Perfect for a hot day or following lots of exercise. Blend ½ cup cottage cheese, ½ cup boiled sweet potato, and 2 tablespoons unsweetened coconut water. Add more coconut water if you'd like more of a pupsicle or if your pup needs extra hydration. 
Fresh & Fruity Smoothie
Yes, smoothies are good for dogs, too! For this easy blend, combine 1 cup plain yogurt, 1 small handful blueberries, and 1 mashed up banana. Freeze and serve for a nutritious and delicious warm weather treat.
Fishmilk (Sardines in Goat's Milk)
This does sound completely unappetizing but take our word for it, your dog will do a backflip for this one. All you need is 1 jar wild sardines in oil, mashed mixed with 1 cup goat's milk. This is one of the more viscous KONG recipes, so the pro tip above where you seal the KONG will come in super handy here.
Apple Mint Frosty Breath Blast
Why not get two out with one pitch? Beat the heat and take care of some dog breath, too! Mix together ½ cup chopped Granny Smith apple (skin removed), ¼ cup chopped mint, ¼ cup chopped parsley, and 1 cup filtered water.
Have you tried these recipes at home? Have your own recipe to share? Tell us about it by writing in to [email protected] for consideration for a feature.
Source: Read Full Article