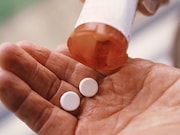 MONDAY, July 23, 2018 — There has been a substantial increase in the percentage of patients with high cholesterol over age 60 years taking lipid-lowering medications from 2005 to 2016, but such increases have not been seen among younger patients with high cholesterol, according to a QuickStats report published in the July 13 issue of the U.S. Centers for Disease Control and Prevention's Morbidity and Mortality Weekly Report.
Margaret D. Carroll, M.S.P.H., from the National Center for Health Statistics in Hyattsville, Md., and colleagues used data from the National Health and Nutrition Examination Survey (2005-2006 to 2015-2016) to evaluate the percentage of adults with high cholesterol (aged ≥20 years) who were taking lipid-lowering medications.
The researchers found that the percentage of men (≥60 years) told by a health professional that their cholesterol was high who were taking lipid-lowering medications increased from 36 percent in 2005 to 2006 to 50 percent in 2015 to 2016. However, there was no substantial increase among those aged 20 to 39 years (1 to 2 percent) or 40 to 59 years (16 to 17 percent). Similar findings were seen among women, with changes from 33 to 38 percent, 1.0 to 0.7 percent, and 13 to 11 percent, respectively.
Abstract/Full Text
Posted: July 2018
Source: Read Full Article