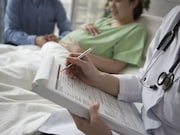 THURSDAY, Aug. 9, 2018 — The number of pregnant women addicted to opioids as they give birth has more than quadrupled since 1999, a disturbing new report shows.
In 2014, for every 1,000 hospital deliveries, 6.5 were mothers who arrived at the hospital with opioid use disorder, up from 1.5 per 1,000 in 1999, the U.S. Centers for Disease Control and Prevention researchers found.
This increase is likely linked to America's ongoing opioid epidemic, said study co-author Jean Ko, an epidemiologist with the CDC's division of reproductive health.
"With the opioid overdose epidemic, it's natural to see increases in opioid use disorder among the general population," Ko said. "Our data tell us that women presenting for labor and delivery are no different."
Opioid use during pregnancy has been tied to maternal death during delivery, stillbirth and preterm birth, the CDC researchers noted.
Even babies born healthy might have to go through opioid withdrawal, a condition known as neonatal abstinence syndrome (NAS).
Babies with NAS can experience tremors, convulsions, seizures, difficulty feeding, breathing problems, fever, diarrhea and trouble sleeping, according to the March of Dimes.
The CDC study used data from the Agency for Healthcare Research and Quality, focusing on 28 states with at least three years of data available for analysis.
Between 1999 and 2014, all 28 states saw significant increases in opioid-addicted pregnant women entering labor.
Vermont and West Virginia had the most cases of opioid-affected pregnancies in 2014. Vermont had 48.6 cases for every 1,000 deliveries; West Virginia had 32.1 cases per 1,000. On the low end, Nebraska had 1.2 cases per 1,000 and the District of Columbia had 0.7 per 1,000.
The average annual rate increases were highest in Maine, New Mexico, Vermont and West Virginia. Those states all had growth of more than 2.5 cases per 1,000 each year — six times higher than the national average of 0.4 cases per 1,000.
The states with the lowest increases were California and Hawaii, with fewer than 0.1 new cases per 1,000 each year.
The new information "is very alarming and is a call to arms regarding this national health crisis," said Dr. Mitchell Kramer, chairman of obstetrics and gynecology at Huntington Hospital in Huntington, N.Y.
"We are well aware of the association of opioid exposure and abuse with adverse pregnancy outcomes including preterm labor and delivery, stillbirth, neonatal withdrawal syndrome and maternal mortality," he said.
But Ko said concerns about babies with NAS should not dissuade pregnant women from taking medicines appropriately prescribed to treat chronic medical disorders, or from taking medications like methadone or buprenorphine that aid in addiction treatment.
The CDC recommends a number of strategies for countering this dangerous trend:
Making sure opioids are prescribed appropriately.
Strengthening state-level prescription drug monitoring programs.
Requiring substance abuse screening at the first prenatal visit, as recommended by the American College of Obstetricians and Gynecologists.
Ensuring that pregnant women with opioid use disorder have access to addiction therapy, and that new opioid-addicted mothers receive postpartum care that includes mental health and substance abuse treatment.
Kramer pointed out that "the implications of this startling CDC data are that coordinated national, state and provider efforts are necessary to prevent, monitor and treat opioid use disorder among reproductive-aged and pregnant women."
The report was published in the Aug. 10 issue of the CDC's Morbidity and Mortality Weekly Report.
More information
The March of Dimes has more about neonatal abstinence syndrome.
Posted: August 2018
Source: Read Full Article