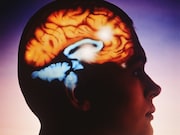 THURSDAY, Aug. 9, 2018 — Evolutionary changes in the human brain may be responsible for psychiatric illnesses such as schizophrenia and bipolar disorder, new research suggests.
The researchers identified long, noncoding stretches of DNA (called "repeat arrays") in a gene that governs calcium transport in the brain. Their findings were published Aug. 9 in the American Journal of Human Genetics.
"Changes in the structure and sequence of these nucleotide arrays likely contributed to changes in CACNA1C function during human evolution and may modulate neuropsychiatric disease risk in modern human populations," senior author David Kingsley said in a journal news release. Kingsley is a professor of developmental biology at Stanford University in California.
The study authors suggested that the findings could lead to improved treatment for patients with schizophrenia and bipolar disorder, which affect about 3 percent of people worldwide.
Classifying patients based on their repeat arrays may help identify those most likely to respond to current calcium channel drugs, which so far have produced mixed results, Kingsley said.
He added that more research is needed to determine whether patients with a genetic variation of CACNA1C have too much or too little calcium channel activity.
The repeat arrays in the CACNA1C gene occur only in humans. Kingsley said that suggests the arrays may have given humans an evolutionary advantage, even if they increased the risk of conditions such as schizophrenia and bipolar disorder.
More information
The U.S. National Institute of Mental Health has more on schizophrenia.
Posted: August 2018
Source: Read Full Article