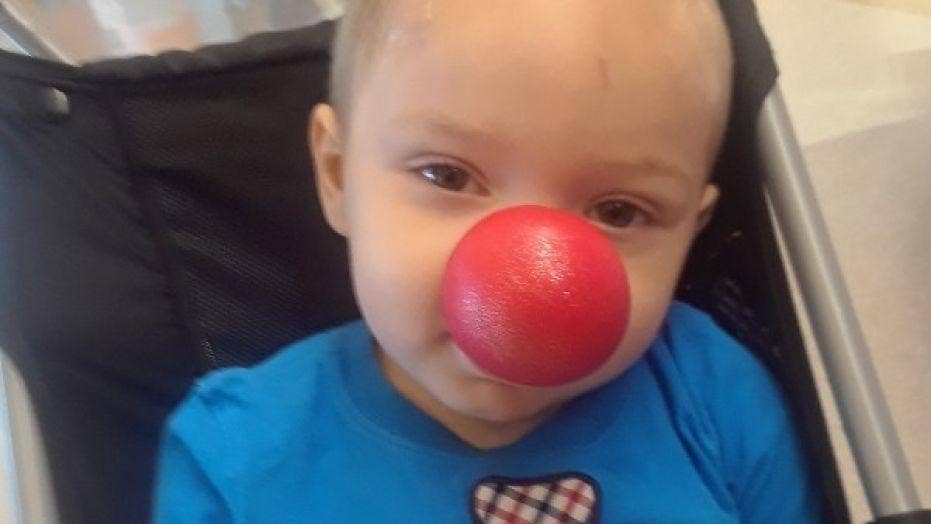 Vandals try to ruin holiday cheer for terminally ill boy
2-year-old Brody Allen, from Ohio, loved seeing Christmas lights during his first holiday season last year so much that his family and town are putting up Christmas decorations early so the toddler can celebrate the holiday one last time. But in a disheartening turn of events, vandals have damaged some inflatables that were put up for the boy.
An Ohio town that celebrated Christmas in September for a little boy dying of brain cancer is shedding tears after news of the child's death.
Brody Allen died Friday, according to his father. He was 2.
"This morning at 6 a.m. Brody passed quietly, and peacefully, in the arms of his mother Shilo," Todd Allen said on Facebook, WCPO-TV reported. "He did not suffer. He was surrounded by his family and I have no doubt many angels."
He added, "While our sadness is immeasurable and we will miss his smiling beautiful soul, we are also comforted in knowing that today our son has touched the face of God."
OHIO TOWN CELEBRATES CHRISTMAS EARLY FOR TODDLER DYING OF BRAIN CANCER
Efforts to provide Brody an early Christmas drew national attention last month when two teenagers slashed inflatable yard decorations in the front yard of his family's Colerain Township home outside Cincinnati.
A few days later, Brody served as grand marshal for a neighborhood Christmas parade.
Hundreds of people attended the parade.
"He was so happy," Brody's sister, McKenzie Allen, said the day of the parade, according to the station. "It was amazing. Not just for him, but for everybody."
Brody was diagnosed with Embryonal Tumor with Multilayered Rosettes — the fast-growing tumors in young children that form in the brain and spinal cord.
The Associated Press contributed to this report.
Source: Read Full Article